ArduTouch music synthesizer kit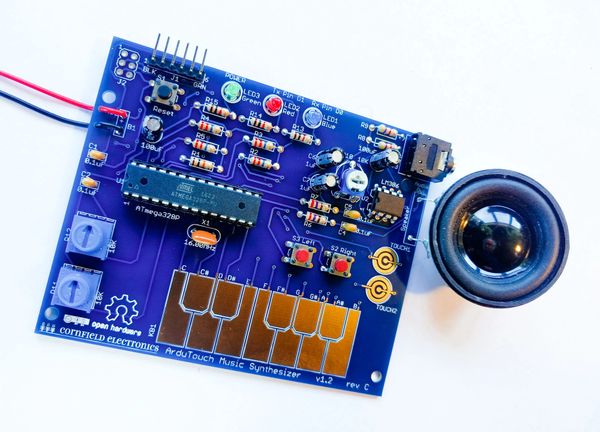 ArduTouch music synthesizer kit
Solder this kit, and you've made a musical instrument!

Solder your ArduTouch kit together, and it works! You can make way wonderful music, sound, and noise.
Use the ArduTouch Library or hack the existing sketches to create your own cool synthesizers.
Easy-to-play touch keyboard,with knobs and switches for lots of sounds.
Comes pre-programmed with an awesome synthesizer.
Easily re-program new synths with our many way cool examples.
Arduino-compatible -- free Arduino software, works with MacOS, Windows, and Linux.
If you like, you can read our documentation to learn how to make sound and music and noise with computers chips!
For assembly instructions, please see:
         ArduTouch assembly instructions for Rev C board

         older versions (before 2017):
                  (assembly instructions for Rev B, Rev A, and mono)
To program your ArduTouch music synthesizer, you can use any FTDI-compatible cable such as an USB-Serial TTL cable.
You will also need to download the free, open-source, Arduino software (for Windows, MacOS, or Linux).
IMPORTANT: There is a known bug in Arduino software versions after V1.8.5!
         Please download V1.8.5 of the Arduino software,
                  and all is well:
                           Arduino software V1.8.5

The ArduTouch library and example sketches will work on any Arduino board!
The ArduTouch board behaves like an Arduino Uno.

The ArduTouch Library contains everything you need to start creating your own synthesizers!
It was mostly written by my friend Bill Alessi.
The ArduTouch Library comes with a sequence of example sketches -- read through these and try them! As well as being way cool synthesizers, they also serve as really good tutorials on how to create your own synthesizer sketches for ArduTouch.
You can download the ArduTouch library, and then import it using the Arduino software:
         ArduTouch Library v1.09 for ArduTouch Music Synthesizer kit.

Thick is an example of a way cool, easy-to-play synthesizer sketch for ArduTouch!
Check it out -- it sounds like it comes from a vintage analog Mini Moog.
(Your ArduTouch synthesizer kit comes pre-programmed with this synthesizer.)

For more information about this ArduTouch music synthesizer kit, please visit https://cornfieldelectronics.com/cfe/projects.php#ardutouch.